These days, more and more men are sporting facial hair. Not only do moustaches and beards allow limitless possibilities for styling, they also impart a unique personality to the bearer. Whether you sport a long, short, patchy or full beard, you will find that using any of the following 10 beard oil recipes will literally transform your experience of having a beard. Some of these DIY beard oil recipes are also known to fight hair loss and other beard problems.
The Basics
---
All the recipes below can be made in small batches but must be stored in a dark bottle in a cool and dry place away from direct sunlight. Recipes containing coconut oil can be prepared using Virgin coconut oil.
Virgin coconut oil is usually be solid at room temperature and must be melted before use in any of these beard oil recipes. Alternatively, go for fractionated coconut oil which is liquid at room temperature.
The basis of all the beard oil recipes below is a mixture of carrier oils such as Coconut oil, Argan Oil, Jojoba oil or Sweet Almond oil. These can be mixed with a few drops of concentrated essential oils with specific properties. Make sure you perform an allergy test before using any essential oils for the DIY beard oil recipes. Always source your essential oils from reputed vendors.
Before You Get Started
You're going to need a few basic things before you can start making your own beard oils at home.
Storage
Properly storing your beard oil is important in preserving it for as long as possible. For best results, it is recommended to use an amber glass bottle with a glass dropper for extraction. Luckily, these are very inexpensive and quite easy to find. I get mine from Amazon.com for about $1 per bottle.
Transferring
I also like to use a funnel for pouring my finished oil into the bottle. Trust me, it's very frustrating when you've prepared a great beard oil, but you spill it all over the counter as you're trying to get it into it's bottle. You can get 6 of these for only $2 and you'll be really glad you got them.
Ingredients
Most important of all when making beard oil are the ingredients that you use. Amazon.com has by far the most extensive selection of carrier and essential oils. In fact, you might find the vast array of different brands a little overwhelming. But the great thing about Amazon is that you can read real customer reviews for every item. When in doubt, look for the best sellers (they're usually popular for a reason) and read through the reviews to make sure that previous customers have been satisfied with that product.
The Recipes
1. Coconut Castor Oil Nighttime Beard Oil Recipe
Ingredients:
½ oz or 25 ml of coconut oil
¼ oz of castor oil
4 drops of avocado oil
2 drops of rosemary essential oil
Click here for all the ingredients in this recipe
Method:
Using a dropper, take the required quantity of essential oils and mix it with the castor oil and coconut oil. Add the Avocado oil on top to fill the bottle. Shake the bottle before each use. This ensures that all the oils are well mixed. Apply this super conditioning beard oil recipe only at bedtime all over your beard and wash it off the next morning. The coconut oil moisturizes while castor oil prevents hair loss. Avocado oil is also really good for the skin and hair. It is packed with essential fatty acids that can keep your skin moisturized and your beard soft and healthy. This is not suitable for daytime usage as both coconut and castor oils are rather heavy and greasy.
2. Argan & Sweet Almond Moisturizing Beard Oil Recipe
Ingredients:
½ oz of sweet almond oil
¼ oz of Moroccan argan oil
3-4 drops of cedarwood essential oil
3-4 drops of frankincense essential oil
Click here for all the ingredients in this recipe
Method:
Take the required quantity of Sweet Almond oil and Argan nut oil in a bottle. Now add in the essential oils with a clean dropper. Cap the bottle tightly and shake. This is a moisturizing formula that conditions frizzy and dry beards. Apply this recipe after every shower. The Moroccan Argan oil offers natural sun protection to prevent beard from drying out. Note that original Argan oil can be expensive as it is not available in the USA and Canada. Also note that Argan oil can be a bit greasy; so reduce the quantity if you do not like greasy beards.
3. Close Shave Citrusy Jojoba Beard Oil
Ingredients:
½ oz of sweet almond oil
¼ oz of jojoba oil
2-3 of drops of lemon essential oil
2-3 of drops of orange essential oil
Click here for all the ingredients in this recipe
Method:
Jojoba oil is very close in composition, texture and properties to the sebum or oils produced by the human skin. Each time you shampoo your beard you end up stripping it off its natural oils. The result is a dry and frizzy look which no one likes. So use this recipe with Jojoba oil after every shampoo. Mix all above ingredients starting first by adding your carrier oils (Almond and Jojoba) into the bottle followed by the essential oil drops. Store the mixture in a clean empty bottle. Shake it before use. Always store the bottle in a cool and dry place.
4. Taming The Wild Patchouli Cedarwood Orange Beard Oil
Ingredients:
½ oz of sweet almond oil
¼ oz grapeseed oil
¼ oz Moroccan argan oil
5 drops of cedarwood essential oil
5 drops of sweet orange essential oil
5 drops of patchouli essential oil
Click here for all the ingredients in this recipe
Method:
Sweet orange essential oil has top notes-which mean that its fragrance fades away faster than the other fragrances. The Cedarwood and Patchouli are base notes, which mean they are strong and their fragrance lasts longer. The above mixture will give you 1-2% dilution per 100 ml of oil used. The formula is known to tame frizzy hair. Mix together all ingredients and add the essential oils on top. Store the bottle in a cool and dry place and use daily as required.
5. Manly Mint Citrusy Beard Oil
Ingredients:
½ oz each of jojoba and Moroccan argan oils
2-3 drops of tea tree essential oil
4-5 drops of peppermint essential oil
2-3 drops of sweet orange essential oil
Click here for all the ingredients in this recipe
Method:
Fill up a 2 ounce bottle with the carrier oils first. Add the essential oils next, using a dropper. Always add the Tea Tree first followed by peppermint and orange essential oils. Close the bottle. Shake to mix. Use every night for a soft smooth and luxurious beard which smells heavenly!
6. Nuts 'Bout You Beard Oil
Ingredients:
50% jojoba oil
20% any kind of heavy oil like coconut oil, olive oil, Moroccan argan oil, castor oil, etc.
20% walnut oil or you can even use Vitamin E oil
10% Any fragrant essential oil of your choice- Lavender, Rosemary, etc.
Click here for all the ingredients in this recipe
Method:
This is a highly flexible beard oil recipe and you can use any oils of your choice. Start by using a dropper to add the lighter oils first to an empty bottle, in this case, the Jojoba oil. Now add the heavy oils- Olive or coconut oils. Stir the mixture a couple of times with a dropper or a chopstick. (You can also shake the bottle vigorously). Now add the fragrant oils. Mix them all together and transfer into a clean and empty soap dispenser for ease of use. This oil is bit on the greasier side, so if you want something lighter, use more of the nut oils and reduce the quantity of heavy oils. Also be careful with the fragrance. Do not add too much since it will be sitting on you all day. So try and use milder fragrant oils.
7. Anti Dandruff Beard Oil Recipe
Ingredients:
25 % jojoba oil
25% sweet almond oil
50% Emu oil
Click here for all the ingredients in this recipe
Method:
In a clean bottle, mix all three oils. Do not be surprised by the higher quantity of Emu oil. This oil is usually enriched with Vitamin E so it does not go rancid. It is also non greasy and does not clog pores. It has a very mild fragrance that vanishes a few minutes after application. Emu oil heals and nourishes dry flaky skin. Likewise, sweet Almond oil is also easily absorbed by the skin where it reduces dandruff and provides round the clock hydration. Jojoba oil, on the other hand, mimics the properties of sebum that is naturally produced by human skin. It protects, nourishes and heals and also softens dry and frizzy moustache or beard hair.
8. Plumbers' Beard Oil Recipe
Ingredients:
¾ oz of jojoba oil
¼ oz of grapeseed oil
3-5 drops of tea tree essential oil
3-5 drops of peppermint essential oil
Click here for all the ingredients in this recipe
Method:
With a clean dropper add ¾ oz and ¼ oz respectively of Jojoba and Grapeseed oils to a bottle. Add the essential oils on top. Do not let the name of this recipe fool you; Plumbers' Beard Oil can be used by any bearded/mustachioed man. Use this manly formula each morning for a super luxurious and clean beard that is free from dandruff and flaking.
9. The Forest Dweller Beard Oil Recipe
Ingredients:
¾ oz of jojoba oil
6 drops of cedarwood essential oil
2-3 drops lavender essential oil
2-3 drops tea tree essential oil
1-2 drops rosemary essential oil
1 drop lime essential oil
Click here for all the ingredients in this recipe
Method:
Combine all the above oils in an amber colored bottle. The oil is diluted to 20% so it is fit for daily use. You can apply it everyday by taking 10-15 drops on your palms, rubbing them together and massaging the oil into the skin and facial hair. Cedarwood and tea tree oil have antiseptic and anti fungal properties. Tea tree oil is also anti fungal and can prevent ringworm and other infections of the beard. Cedarwood oil imparts a woodsy fragrance to the beard. Do note that Lime essential oil can cause photosensitivity; so, avoid using on days you plan to stay outdoors in the sun.
10. Coarse Hair Tamer Beard Balm Recipe
Ingredients:
2 tbsp beeswax
1 tsp of Moroccan argan oil
1 tsp of shea butter
1 tsp of jojoba oil
1 tsp of Vitamin E Oil
1-3 drops of fragrant essential oil of your choice (vanilla, lavender, bergamot, lemon grass, orange, rosemary etc)
Click here for all the ingredients in this recipe
Method:
Heat the beeswax in a small saucepan and add Shea butter. Once melted, add the Argan oil, Vitamin E oil and Jojoba oil. Transfer contents in a clean bottle and add the essential oil drops with a dropper. The mixture will solidify once cooled. In some men, coarse hair of moustache and beard cannot be tamed with beard oils alone; they need something heavier. This beard balm is ideal for very dry, coarse and unmanageable beards for daily use.
Try Beard Oil Before You Make It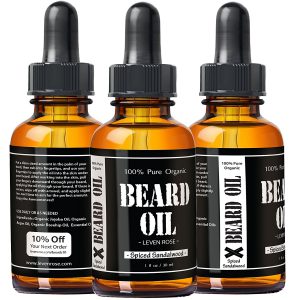 If you're looking up beard oil recipes, you're probably looking at spending over $50 in ingredients (at least).
If you haven't tried beard oil before, a much lower cost option than making your own is buying from one of the many beard oil makers out there.
SOFTEN AND SOOTHE BEARD – Keep your beard healthy, groomed, and tamed naturally with Leven Rose Natural Beard Oil.
SAY GOODBYE TO BEARD DANDRUFF – Sandalwood Essential Oil increases beard and hair growth while calming irritation, soothing itch, and treating dandruff or beard druff. Mixed with spicy clove notes, the scent of Sandalwood is a classic yet warm, mature and refined, rich, dapper, deep smooth wood smell.
SOAKS IN QUICKLY – Don't turn your beard into a 30 minute beauty routine. Run natural oil through the beard after showering to treat dry, coarse, and unruly beard hair. Calms under-beard skin with soothing Jojoba Oil and moisturizes beards for a tidier, groomed beard look.
EXTEND SHELF LIFE – Dark amber glass bottle and glass stopper shield oil and make it last longer as oils are light sensitive & must be stored in dark amber bottles to protect them from oxidation.
100% MONEY BACK GUARANTEE – Leven Rose offers no-risk purchasing for your beard oil. Don't absolutely love it? We'll refund it – no questions asked.
What Does It Smell Like?
Sandalwood essential oil is steam distilled from the Sandalwood tree and has a smooth, warm, rich mature woods scent. Spiced Sandalwood is a mix of Essential Oils with the predominating scent of Sandalwood – a sweet wood with warm and dapper scent.
Clove adds dynamic to the Spiced Sandalwood Beard Oil making the full-bodied smell perfect for any man.
With a distinct enough scent to wear but not overpowering. Our Spiced Sandalwood Scented Beard Oil lets you take care of your beard, without smelling like a girl (or something else).

For more articles like this one where you can find some amazing beard oil recipes, click here!