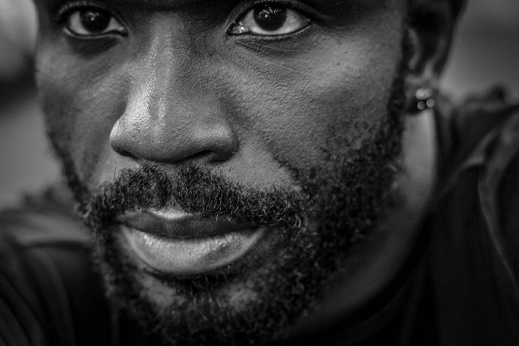 African American men who grow beards will be interested in this article, as they tend to require different beard grooming and maintenance practices compared to Caucasian men. Of course, a beard is a beard and there are many commonalities such as regular daily brushing, cleaning, combing, cleanse tone, and moisturizing.
However, today I am going to talk about the best African American beard care products and conditioner recipes, along with some important beard grooming tips to prevent common issues.
Set Up A Daily Beard Care Routine
Attending to your beard should not take more than a few minutes each day. Identify your skin type and come up with a beard grooming routine for it. Irrespective of your skin type, you must cleanse tone and moisturize your beard and face daily. If possible, treat yourself to monthly facials to keep the skin hydrated and to exfoliate the skin to prevent ingrown hair; a typical problem for African American facial hair which tends to curl. Make sure you also eat a healthy diet rich in protein, B-vitamins and other nutrients needed for healthy hair. Also, make sure to get adequate sleep and follow an exercise regime to beat stress.
Grooming Your Beard
There has never been a time when there have been more options in African American beard styles. If you can't decide you can always visit a professional barber to help you select a beard style that suits your face shape. Whatever you do, if you are just starting to grow your beard, use the right beard care products to maintain its condition.
African American hair needs more moisture since it is very dry and brittle. I recommend the following products for conditioning the hair – these products are great and they have received great reviews. I will also be recommending a few homemade beard oil recipes later -made especially for African American hair types. These recipes not only strengthen your hair shaft; they also moisturize and protect your beard from environmental damage.
Best African American Beard Care Products
This is one of the best African American beard conditioners. It has a light citrusy scent and moisturizes dry, scruffy beards. Prophet Beard Balm does not cause flaking, irritation or dandruff unlike many other beard care products out there. The best part is: although the balm is white in color, it clears once you rub it into the hair. It counters itchiness and leaves your beard looking and smelling great all day. Works for goatees as well.
This is a product made especially for ethnic hair. It stops itchiness when you are just starting to grow a beard. Scotch Porter beard balm for African American Beard care has 100% natural ingredients like Coconut oil, Aloe Vera, Slippery elm, and Marshmallow root. To use, simply wet your face with a hot towel for 10 minutes to open the skin pores. Then, apply a bit of the balm and massage it in. Your beard will look good, smell great and also grow luxuriously.
This wonderful beard grooming product set contains oil and balm for taming wild beards and moustaches. It consists of Argan oil, Vitamin E oil and sesame and Apricot kernel oils. Both the oil and balm are non-greasy and they repair stunted and damaged beard hair. The oil and balm also stimulate beard growth. This set also conditions, softens, detangles and prevents premature graying of hair.
Regular brushing can prevent detangling and also stimulates blood circulation to keep your beard growing as it should. The bristles of this beard brush can be used on African American beards to help detangle, exfoliate and remove dandruff and ingrown hair. With regular use, you will notice a definite improvement in the health and texture of your beard.
Dr. Squatch Pine Tar soap is one of the best African American beard grooming products that exfoliates dead skin and prevents acne, razor bumps, razor burn, ingrown hair, dandruff and other beard problems. It leaves your skin clean and moisturized as it contains oatmeal and pine oil. This leaves your hair and skin smelling good all day. On the downside, it does not last very long.
I will now describe some simple beard oil recipes for African American beards.
Sponsored Links



Best Beard Oil Recipes For African American Beards
Hair Loss Preventing Beard Oil Recipe For African American Beards
1/2 oz of grapeseed oil
3 drops Rosemary essential oil
2 drops each Lavender, Thyme and Cedarwood essential oils
2 ml Jojoba oil
Click here for all the ingredients in this recipe
Mix all the oils and apply it to your beard daily.
Deep Shine Mask
Use this recipe once a week to deep condition the beard. You can also use it on scalp hair as well.
¼ cup coconut oil
2 drops Lavender essential oil or 2 drops Rosemary essential oil
Click here for all the ingredients in this recipe
Combine and store the ingredients in the fridge. Use this recipe at least once a week to deep condition the beard. Per treatment, use 2-4 tsp of the mask. Apply to damp hair. Let it set for 10-15 minutes before shampooing off.
Frizz Control Recipe
This is a wonderful recipe that works well on all hair types including African American beards.
1 cup each warm water and Aloe Vera gel
½ tsp unflavored gelatin
½ tsp pure Rose essential oil
Click here for all the ingredients in this recipe
Method
In a glass bowl, add water and dissolve the gelatin in it. Add the Aloe Vera gel and mix well.
Next, add the rose oil and stir. Adjust the water and gelatin accordingly if the gel is too thick or thin. Store the mixture in the refrigerator for up to 3 weeks.
To use, take a little quantity and rub it into dry or wet beard.
This recipe makes sparse hair look thicker. It also makes it easier to style and groom the beard.
I hope these top African American beard grooming products help you condition your beard and keep your mane looking good all day.
Sponsored Links