Ah, lavender, the elixir of the gods. It has many alleged uses among the essential oils community, and one of its most important uses is its tendency to relax people. In fact, it's very often used in aroma therapy for this exact reason.
The Benefits of Lavender
Some people even find it useful in mitigating the symptoms of their sleep disorders, especially if they just have mild insomnia. If you're looking to keep a mellow atmosphere at a social event, it's also not a bad idea to diffuse some of this to keep people complacent, according to some anecdotes.
More importantly, however, lavender smells good. If you're looking to attract the ladies and you want something that isn't going to be too flowery, but that is aromatic and stands out just enough to get their attention, you might want to go with something lavender-based.
Since you should be applying beard oil to take care of your facial hair anyway, why not just incorporate this lavender scent into your beard care?
There are a few of the best beard oil recipes that make heavy use of lavender, so you don't even have to buy anything too expensive if you're not into the commercial beard oils. If you already have some lavender oil and a few other ingredients laying around, the DIY approach is certainly the best idea.
Before You Get Started
You're going to need a few basic things before you can start making your own beard oils at home.
Storing Your Oil
Properly storing your beard oil is important in preserving it for as long as possible. For best results, it is recommended to use an amber glass bottle with a glass dropper for extraction. Luckily, these are very inexpensive and quite easy to find. I get mine from Amazon.com for about $1 per bottle.
Transferring Your Oil
I also like to use a funnel for pouring my finished oil into the bottle. Trust me, it's very frustrating when you've prepared a great beard oil, but you spill it all over the counter as you're trying to get it into it's bottle. You can get 6 of these for only $2 and you'll be really glad you got them.
Getting Your Ingredients
Most important of all when making beard oil are the ingredients that you use. Amazon.com has by far the most extensive selection of carrier and essential oils. In fact, you might find the vast array of different brands a little overwhelming. But the great thing about Amazon is that you can read real customer reviews for every item. When in doubt, look for the best sellers (they're usually popular for a reason) and read through the reviews to make sure that previous customers have been satisfied with that product.
The Recipes
1. Smell Like a Tropical Garden in the Summer
Ingredients:
4 drops of lavender oil
2 drops of vanilla oil
2 drops of tea tree oil
1 ounce of coconut oil
Benefits:
This is a great scent for those who are looking for that "I'm on vacation" smell, or those who maybe want to emulate the wafting scents of an air freshener store. It's classic and relaxing, though it might make you hungry, so keep that in mind. The coconut oil is particularly good for your beard and it will keep it nice a moisturized while providing a few key vitamins.
2. Smell like a Mix of Relaxation and Focus
Of course, that's all rather abstract, so who knows what these concepts actually smell like—but if they did have a smell, it would probably be a mixture between rosemary and lavender:
Ingredients:
12 drops lavender oil
12 drops rosemary oil
1 ounce of almond oil
Benefits:
That's all you need to spread some piece of mind on your face and keep your beard soft. Both of these essential oils have been shown to quiet the mind and improve certain functions (although they can sometimes be a little too relaxing, and some studies have indicated that lavender can decrease performance in some cases). These are a great combo to use if you want not only the natural conditioning qualities of a beard oil, but also a constant aroma therapy on your face that will help reduce your stress. Here is a simple recipe.
3. Smell Like a Bunch of Trees With a Side of Lavender
Admittedly, sometimes lavender can be a little too much—it has an extremely striking aroma, and though is smells great, you might be looking for a more subtle touch. What better way to dilute the strong lavender than with some very masculine scents that will add a woodsy aroma. This calls for a somewhat more complex recipe, but it makes for a great-smelling beard oil. If you just barely want to smell the lavender, give this recipe a try instead:
Ingredients:
6 drops cedarwood essential oil
4 drops lavender essential oil
2 drops tea tree essential oil
1 drop rosemary essential oil
1 drop lime essential oil
1 ounce of coconut oil.
Benefits:
This is a great recipe for winter, especially if you're looking to smell like a slightly-refined lumber jack. If you're not into collecting a dozen essential oils, this recipe can also be simplified by getting rid of the rosemary and the lime oil.
4. Another Trip Into the Forrest
If it seems like there are tons of woodsy beard oil recipes available, that's because they're the best. There's nothing that straddles the line of smelling good, but still being manly, quite like the scent of fresh woodsy essential oils. You can add lavender to a lot of these wooden smells and enhance the recipes even further, incorporating both lavender's pleasing scent and its tendency to relax those who are taking a whiff.
Ingredients:
3 drops of lavender oil
2 drops of eucalyptus oil
2 drops of fir needle oil
2 drops of lemongrass oil
1 ounce of grapeseed oil
Benefits:
The eucalyptus oil in this doesn't just smell good, it will help to moisturize your beard and some people believe that it has medicinal qualities. At the very least, your average koala would agree.
---
One thing to keep in mind, though, if you decide to try out any of these recipes, is to be careful not to add too much lavender, and to never use the lavender on its own without a carrier oil, as it can be rather noxious in its undiluted form and you don't want to give yourself chemical burns. Besides, lavender has a very strong scent and you don't want to be too overwhelming, after all.
If you like the way it smells on your beard and like the effect it seems to have on you, you might also consider buying a diffuser to allow the essential oil to permeate a room; you can do this with just about any other oil as well. Even if you're not particularly convinced of its magical properties (since the scientific jury is still out for that one, truth be told), you'll at the very least be ten steps ahead of most other guys when you invite a girl over. Nothing covers up the smell of sweaty socks and decomposing boxes of Chinese takeout quite like lavender.
Give any of these recipes a try next time you're looking to smell good and calm yourself down at the same time. Maybe you'll manage to ease your nerves during a presentation or while you're trying to ask a prospective lady friend out for coffee. Who knows? Maybe your audience will also become more receptive as they inhale the molecules of lavender that waft from your beard.
Try Beard Oil Before You Make It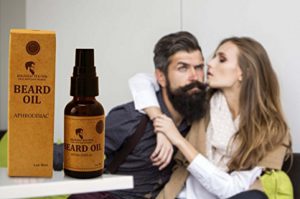 If you're looking up beard oil recipes, you're probably looking at spending over $50 in ingredients (at least).
If you haven't tried beard oil before, a much lower cost option than making your own is buying from one of the many beard oil makers out there.
Beard Hunk Beard Oil:
Uses all natural ingredients that will leave your beard hair nutrient rich
Moisturizes beard hair and skin for healthier beard growth
Eliminates itching and dandruff so you can feel as good as you look
Beard Hunk Beard Oil's formula has been clinically tested and is unlike any other. It contains: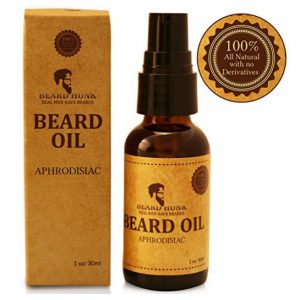 Grape seed oil
Argan oil
Jojoba oil
Vitamin E
Safflower oil
Macadamia oil

Sweet almond oil
Bisabolol
Coconut oil
Tea tree oil
Lemon oil
Mint oil
Can you image buying all those ingredients individually?
If you would like to see more articles like this one that teach you how to make awesome beard oil recipes, click here!