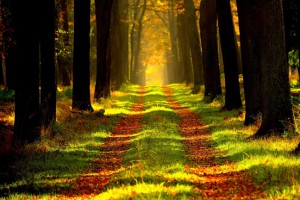 For thousands of years, people have used essential oils and aromatherapy for the healing benefits. Essentials oils are not just a woman's domain and today, more and more men are using them for their therapeutic, healing and soothing properties.
As far as men go, diy homemade beard oil recipes are especially gaining a lot of popularity. Men having facial hair are always on the search for woodsy and manly beard oil recipes that will help them smell great all day whilst conditioning and grooming their beards. And this is exactly what today's article is about: woodsy beard oil recipes which won't overwhelm you in any way.
Before we discuss these recipes, let us first study some of the woodsy and manly essential oils so you can purchase the right ones to create your own homemade beard oil recipes.
Best Woodsy Essential Oils
Cedarwood – Cedarwood is known by many different names including Juniperus virginiana or cedrus atlantica. It is derived by distilling wood waste and saw dust of cedarwood trees. Cedarwoods are found in many parts of the world, and especially in USA, North Africa and the Near East. Cedarwood is antiseptic, astringent and soothing. Just a few drops of this oil mixed with any carrier oil such as sweet almond or coconut oil can give you a great woodsy beard oil recipe that has a light woodsy, sweet-sour and leather-like fragrance.
Citronella – This essential oil has a forest like smell which is not overpowering at all. It is due to this reason that Citronella often finds its way in men's cosmetics. It is a fungicidal, antibacterial and refreshing essential oil which you must use in small quantities in your woodsy beard oil recipes.
Clary sage -The smell of this essential oil can be described as euphoriant, relaxing and aphrodisiac-like. It is particularly useful in diy homemade beard oil recipes used for treating dandruff.
Cypress– Cypress is an important smell for men's toiletries and cosmetics. It imparts a fresh, lemony, spicy scent and also gives a smoothening and tautening effect to the skin.
Juniper -The powerful fragrance of Juniper is reminiscent of pine needles and gin-like scent. It is a detoxifying, toning and astringent oil that can inhibit infections and ward off acne, folliculitis and dermatitis.
Patchouli – This gives a woody, earthy scent that will cling to you all day long. Include this essential oil in your diy woody beard oil formula and you have a winner!
Rosemary – The woodsy, herb-like scent of rosemary is similar to lavender without being overpowering at all. It is a stimulating and warming scent which is a perfect wake-up fragrance for your morning beard rituals.
Sandalwood – This oil has a distinctly woody, balsamy scent that is well suited for men's after-shaves, perfumes and also in beard oil blends.
Now that we have discussed the top essential oils for beard growth that impart a woodsy fragrance, let us discuss 8 popular woodsy beard oil recipes.
1. Beard Fixing Oil
Ingredients:
Grapefruit oil- 4tsp
Jojoba oil 2 tsp
Thyme oil 2-3 drops
Rosemary oil 2-3 drops
Cedarwood oil-2-3 drops
Lavender oil-2-3 drops
In a small glass bowl, take jojoba oil and grapefruit oil. Mix them together then add in the other oils. Massage the blend onto your beard (and scalp) each night. Rinse off the next morning.
2. Hair Growth Stimulating Beard Oil Blend
This blend of essential oils is ideal for hair growth.
Ingredients:
Carrier oil of your choice-2 tbsp
Patchouli oil-2-3 drops
Sandalwood oil-2-3 drops
Mix all the oils and apply them to the beard, day and night. This beard oil will also stimulate melatonin production and help you sleep better.
3. Dandruff And Scaly Beard Formula
Ingredients:
2-3 drops of Atlas Cedarwood oil
2 drops of rosemary
2 drops of tea tree oil
2 drops of lavender oil
½ oz of carrier oil of your choice
Method
Mix all ingredients and store them in a bottle with dropper.
To use: mix the oil with your beard shampoo or conditioner. Leave it on for a few minutes and rinse off.
4. Relaxing Woody Beard Oil Formula
Ingredients:
4 drops of chamomile oil
3 drops of patchouli oil
2 drops of cypress oil
2 drops of lavender oil
1 oz of St.John's wort oil or any other carrier oil of your choice
Mix the oils together and apply all over the beard.
5. Headache Soothing Manly Beard Oil Formula
Ingredients:
10 drops of peppermint oil
10 drops of basil
8 drops of marjoram oil
3 drops of helichrysm oil
1 oz of a carrier oil of your choice
Mix the oils and apply them on the beard and scalp to soothe pain, tension and stress.
6. Acne Fighting Beard Oil Blend
Men need help for their acne too. This formula contains antiseptic, antimicrobial and anti-acne properties to give you a healthier beard and clearer complexion.
Ingredients:
3 drops of lavender oil
3 drops of cypress oil
5 drops of Deep Blue essential oil blend® (it contains many oils like chamomile, wintergreen, ylang ylang etc)
3 drops of sandalwood oil
6 drops of lemongrass oil
6 drops of marjoram
1 oz of a carrier oil of your choice
Mix all the oils in a dark colored glass bottle. Apply it daily after showering to ward off acne.
7. Ringworm Fighting Beard Oil Blend
This woodsy beard oil recipe is ideal for men who suffer from chronic ringworm infections.
Ingredients:
3-4 drops of thyme essential oil
8 drops of geranium oil
12 drops of tea tree oil
2 drops of myrrh
2 oz of organic, raw, unfiltered apple cider vinegar
1 tbsp tincture of benzoin
Mix all oils together and apply it on scalp, beard, face and pretty much everywhere you get ringworm. Repeat application several times a day.
8. Mood Enhancing Beard Oil Recipe
Ingredients:
1 tsp melted coconut oil
1 drop bergamot
1 drop ylang ylang
3 drops of clary sage
3 drops of lavender oil
4 drops of sandalwood
Put all ingredients in a bottle. Apply it on the beard, pulse points and even the underarms. This is a natural deodorant as well as mood enhancing, manly beard oil recipe which you and your girl will surely love!
Try Beard Oil Before You Make It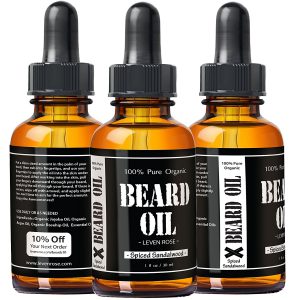 If you're looking up beard oil recipes, you're probably looking at spending over $50 in ingredients (at least).
If you haven't tried beard oil before, a much lower cost option than making your own is buying from one of the many beard oil makers out there.
SOFTEN AND SOOTHE BEARD – Keep your beard healthy, groomed, and tamed naturally with Leven Rose Natural Beard Oil.
SAY GOODBYE TO BEARD DANDRUFF – Sandalwood Essential Oil increases beard and hair growth while calming irritation, soothing itch, and treating dandruff or beard druff. Mixed with spicy clove notes, the scent of Sandalwood is a classic yet warm, mature and refined, rich, dapper, deep smooth wood smell.
SOAKS IN QUICKLY – Don't turn your beard into a 30 minute beauty routine. Run natural oil through the beard after showering to treat dry, coarse, and unruly beard hair. Calms under-beard skin with soothing Jojoba Oil and moisturizes beards for a tidier, groomed beard look.
EXTEND SHELF LIFE – Dark amber glass bottle and glass stopper shield oil and make it last longer as oils are light sensitive & must be stored in dark amber bottles to protect them from oxidation.
100% MONEY BACK GUARANTEE – Leven Rose offers no-risk purchasing for your beard oil. Don't absolutely love it? We'll refund it – no questions asked.
What Does It Smell Like?
Sandalwood essential oil is steam distilled from the Sandalwood tree and has a smooth, warm, rich mature woods scent. Spiced Sandalwood is a mix of Essential Oils with the predominating scent of Sandalwood – a sweet wood with warm and dapper scent.
Clove adds dynamic to the Spiced Sandalwood Beard Oil making the full-bodied smell perfect for any man.
With a distinct enough scent to wear but not overpowering. Our Spiced Sandalwood Scented Beard Oil lets you take care of your beard, without smelling like a girl (or something else).