If you are looking for home remedies for beard hair growth, then this is the article for you. These 7 super simple DIY beard oil recipes actually facilitate hair growth to make your beard grow faster, stronger and more luxurious. If you are experiencing stunted growth or are experiencing hair fall, then these all-natural beard oil growth formulas will certainly help you. Before we study how to make these DIY homemade beard oil recipes, let us briefly outline the causes of hair loss in men.
Causes of Beard Hair Loss
Facial hair loss in men (Alopecia Barbae) can be attributed to following causes:
Lupus
Vitamin or mineral deficiencies
Infections such as ringworm or candida in the bearded area
Do consult a doctor or dermatologist if this may be causing the hair loss in your case. If not, you can start using the following beard conditioner and beard oil recipes to ensure steady growth of beard.
Before You Get Started
Making beard oil at home is simple and only requires a few inexpensive supplies to get started.
| | |
| --- | --- |
| Storage | Transferring |
| | |
| Properly storing your beard oil is important in preserving it for as long as possible. For best results, it is recommended to use an amber glass bottle with a glass dropper for extraction. Luckily, these are very inexpensive and quite easy to find. They go for about $1 per bottle. | I  like to use a funnel for pouring my finished oil into the bottle. Trust me, it's very frustrating when you've prepared a great beard oil, but you spill it all over the counter as you're trying to get it into it's bottle. You can get 6 of these for only $2 and you'll be really glad you got them. |
Ingredients
Most important of all when making beard oil are the ingredients that you use. Amazon.com has by far the most extensive selection of carrier and essential oils. In fact, you might find the vast array of different brands a little overwhelming. But the great thing about Amazon is that you can read real customer reviews for every item. When in doubt, look for the best sellers (they're usually popular for a reason) and read through the reviews to make sure that previous customers have been satisfied with that product.
1. DIY beard oil recipe with coconut oil
Ingredients:
1 oz of extra virgin coconut oil
Essential oil of your choice (5-10 drops) – rosemary, sage, lavender, cedarwood etc
Click here for all the ingredients in this recipe
Method
Mix the oils and store them in a dark/amber colored bottle.
How to use it:
Coconut oil stimulates hair follicles to enhance growth. Use your fingers to massage coconut oil in the beard or use a cotton wool dipped in above mixture. Use this DIY beard oil recipe for growth every night at bedtime. You can shampoo off the next morning.
2. DIY beard oil recipe for hair growth with Indian Gooseberry oil
Indian gooseberry or Amla is a traditional Ayurvedic remedy for hair loss which can be purchased at your nearest Indian store or online.
Ingredients
2 tsp of amla oil
2 tsp of grapeseed oil
Click here for all the ingredients in this recipe
Method
Mix the two oils together
How to use it:
Massage the oils in the beard each night. Amla oil is rich in antioxidant Vitamin C which prevents the hair from drying and breaking. Grape seed oil is non-greasy and provides the hair and skin with high levels of Vitamin E which is essential for hair growth and healthy hair. Apply it overnight on the beard and face. Shampoo and condition the beard as usual.
3. Six Essential Oil Blend- Powerful DIY beard oil recipe for fast growth
This sweet smelling DIY beard oil recipe is ideal for daily use and gives rise to a luxurious beard. Cinnamon contains anti-inflammatory properties that fight hair loss. Lemon essential oil protects the skin and hair from oxidative stress. Rosemary herb has been used since centuries for fighting all kinds of hair issues. Tea tree oil fights dandruff and fungal infections to stop hair loss.
Ingredients
2 oz of jojobal oil
2-3 drops of lemon essential oil
2-3 drops of cinnamon bark essential oil
3-4 drops of frankincense essential oil
2-3 drops of rosemary essential oil
3-4 drops of peppermint essential oil
2-3 drops of tea tree essential oil
Click here for all the ingredients in this recipe
Method
Mix all oils in a glass bottle with stopper.
Be careful with the essential oils; almost all are strongly fragrant which can be overpowering. You can reduce the concentration of the essential oils
How to use
Apply this oil daily. Make sure you do a skin test first to ensure you are not allergic to any of these oils. Your skin might sting and tingle a bit in the beginning, but it should get better in a while.
Variation: If you find peppermint is too strong, replace it with a few drops of Vitamin E oil.



4. Eucalyptus oil for beard growth
This is a simple beard oil recipe requiring just two ingredients. Eucalyptus essential oil is anti-inflammatory and antibacterial in nature. It promotes hair growth and fights skin infections. It is also known to relieve cold and sinus infections.
Ingredients
1 oz of olive oil
5-7 drops of eucalyptus essential oil
Click here for all the ingredients in this recipe
Method
Mix the two oils.
How to use
In the palm of your hand, take some of the above mixture. Apply it to beard by massaging it into the skin. Leave the mixture on for 20 minutes. Rinse with cold water.
5. Healthy growth beard oil recipe
Ingredients
½ oz of coconut oil
½ oz of Jojoba oil
6 drops each of Rosemary and Lavender essential oils
Click here for all the ingredients in this recipe
Method
Start by adding carrier oils first in an amber colored bottle
Add the essential oils
Swirl gently to mix well
How to use
Use this fragrant beard oil recipe growth formula daily. Rosemary is known to promote hair growth while Lavender is calming and healing in nature. Jojoba oil is very light and gets easily absorbed into the skin. Coconut oil is antifungal, moisturizing and healing.
6. Tea tree cedarwood woodsy hair growth oil
This DIY beard oil recipe is one of the best home remedies for beard growth.
Ingredients
2 oz of jojoba oil
7 drops of cedarwood essential oil
10 drops of tea tree essential oil
Click here for all the ingredients in this recipe
Method
 Add the Jojoba carrier oil in an amber colored bottle.
Add the essential oils
Mix well
How to use it
This woodsy formula is known to give luxurious hair growth. Tea tree oil fights infection and Cedarwood is antiseptic, anti-inflammatory and fights infections to stop hair fall. Use the oil daily after bath. Repeat application at night time.
7. Woody citrusy beard oil recipe for sparse beards
Ingredients
1 oz of grapeseed oil
4 drops of lime essential oil
1 drop rosemary essential oil
1 drop cedarwood essential oil
Click here for all the ingredients in this recipe
Method
Using a funnel, add the grapeseed oil in a dark bottle
Use a dropper to add the essential oils
Mix well. Store in a dark place.
How to use
This masculine, citrusy scent is ideal for bearded men for daily use. It contains lime essential oil which is antioxidant and reduces oxidative stresses and photo-damage. It also contains rosemary essential oil and cedarwood oils that help boost sparse looking beards.
Try Beard Oil Before You Make It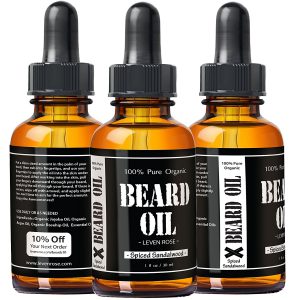 If you're looking up beard oil recipes, you're probably looking at spending over $50 in ingredients (at least).
If you haven't tried beard oil before, a much lower cost option than making your own is buying from one of the many beard oil makers out there.
SOFTEN AND SOOTHE BEARD – Keep your beard healthy, groomed, and tamed naturally with Leven Rose Natural Beard Oil.
SAY GOODBYE TO BEARD DANDRUFF – Sandalwood Essential Oil increases beard and hair growth while calming irritation, soothing itch, and treating dandruff or beard druff. Mixed with spicy clove notes, the scent of Sandalwood is a classic yet warm, mature and refined, rich, dapper, deep smooth wood smell.
SOAKS IN QUICKLY – Don't turn your beard into a 30 minute beauty routine. Run natural oil through the beard after showering to treat dry, coarse, and unruly beard hair. Calms under-beard skin with soothing Jojoba Oil and moisturizes beards for a tidier, groomed beard look.
EXTEND SHELF LIFE – Dark amber glass bottle and glass stopper shield oil and make it last longer as oils are light sensitive & must be stored in dark amber bottles to protect them from oxidation.
100% MONEY BACK GUARANTEE – Leven Rose offers no-risk purchasing for your beard oil. Don't absolutely love it? We'll refund it – no questions asked.
What Does It Smell Like?
Sandalwood essential oil is steam distilled from the Sandalwood tree and has a smooth, warm, rich mature woods scent. Spiced Sandalwood is a mix of Essential Oils with the predominating scent of Sandalwood – a sweet wood with warm and dapper scent.
Clove adds dynamic to the Spiced Sandalwood Beard Oil making the full-bodied smell perfect for any man.
With a distinct enough scent to wear but not overpowering. Our Spiced Sandalwood Scented Beard Oil lets you take care of your beard, without smelling like a girl (or something else).

In Conclusion
Try these 7 easy DIY beard oil recipes to fight beard hair fall. However, do make sure that you also eat a protein rich diet. If needed, talk to a doctor who can address the root cause of your Alopecia.