A beard says a lot about a man. How you maintain it also eventually determines its condition-how long it will grow, its texture and several other factors. You might decide to keep a beard just so that you won't have to undergo the hassles of shaving every day. But if you have been thinking that keeping a beard is low maintenance-think again! No sir, beards also need regular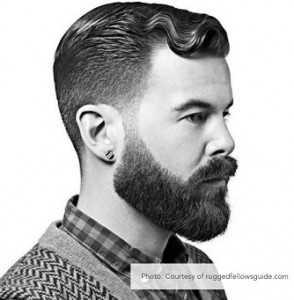 maintenance and grooming and it is especially important to use beard oils on them from time to time.
What is Beard Oil?
Beard oil is a unique blend of oils made especially for grooming and maintaining a beard. Beard oil is to beard what conditioner is to your hair and scalp. The oil helps nourish the root and hair follicles and ensures that the beard remains soft, luscious and healthy. The skin underneath the beard is very sensitive and often prone to fungal and bacterial skin infections. Beard oil helps ensure that such infections are prevented and that your skin and hair are protected.
When Should You Start Using Beard Oils?
Beard oils have been used for centuries by men with beards. The Native Indians as well as men from other early civilizations also used specific oils to keep their skin from flaking and itching and their beards, long, strong and shining with health. If you study Roman history and culture, you might even learn that young Roman boys in their adolescent years also slathered beard oils on their smooth hair-free chins to ensure that the beard would grow quickly and they would become 'real men'.
So, to answer the question: when to use beard oil?
The answer is today. Start using beard oil this very moment! Whether you already have a thick beard or are just starting to grow one- slather on nice, good quality beard oil and see the difference it makes to your skin and facial hair. Even if you have been noticing your beard appearing dull or feel you are losing some hair or your skin is dry and itchy, then you must start using beard oil without any delay.
Beard oils have fantastic ingredients like Jojoba oil, Argan Oil, Coconut oil, Olive Oil, Almond oil and several other essential oils like Frankincense, Sandalwood oil, Rosemary and Cedarwood essential oils. You can buy beard oils online or simply make them at home. Make sure you source the essential oils from the right vendors and also mix them with the right carrier oils before using. This is because highly concentrated beard oils could irritate the skin or cause allergic reactions like redness etc.
Advantages of Using Beard Oil
When you start using beard oil regularly you will see following benefits:
Softer, luscious hair
Clean, neat appearance as oppose to the unkempt frizzy look
Nourished and healthy skin
Conditioned, nourished and healthy looking shine and lustrous hair
Stronger beard that continues to grow in a healthy manner
How to Choose Beard Oil?
If you have decided to use beard oil, it is a great decision and you can really look forward to a noticeable difference in your beard. If you want to make your own beard oil, then you can use beard oil recipes that are easily available online and offline. Below is one beard oil recipe that is effective and very easy to prepare:
Simple Beard Oil Recipe
1 tbsp Jojoba seed oil
2 tsp Argan oil
1 tsp Almond oil
5-7 drops of Frankincense essential oil
5-7 drops of Vetiver essential oil
5 drops of West Indian Bay essential oil
4 drops of sandalwood oil
3 drops of cedarwood essential oil
2 drops of rosemary essential oil
Using a funnel, pour the Argan and Jojoba oil in a dark colored/amber bottle. Use a dropper to add other essential oils. Mix and swirl the bottle. Use the beard oil every day to groom and condition your beard.
If you are planning on buying the beard oil from commercial sources, it is very important to look out for following characteristics:
Preservative free-There should be no harsh preservatives that could irritate the skin.
Moisturizing– The oil should penetrate deep in the skin to provide nourishment to hair follicles
Petroleum free– There should be no petroleum derivatives as these suffocate the skin and clog pores.
No filler oils– The carrier oils used should not be ordinary filler oils. Filler oils only increase the quantity of the oils and provide no real nourishment or hydration to your beard. Good quality beard oil will contain carrier oils that are extracted using the right standards and procedures of extraction. This helps the beard oils provide adequate nourishment and health to the beard. Naturally, a good quality oil will also be more expensive.
Just a few drops of beard oils will provide hydration to your skin around the beard and also provide nourishment to the hair. Start using beard oils today and start seeing a difference in your beard!
Want to learn more? Find out how often to use beard oil.