Cedar essential oil is a major essential oil that is touted by enthusiasts not only for its lovely smell, but for its possible health benefits as well. According to anecdotal evidence, as well as some limited studies, cedar oil is antiseptic, so it can be used to treat problems like acne; it may be anti-inflammatory as well, and some people have see success using it to treat other skin conditions caused by inflammation. In addition, some people use this essential oil as mosquito repellent to keep the bugs from biting (though it won't kill them; it is not noxious).
Is it actually effective for any of these uses? Well, it's not 100% proven, but if you're going to use an essential oil on your face, why not use one that might just keep the acne at bay and keep the mosquitoes and gnats from trying to get in between your beard hairs while you're frolicking in the woods?
By the way, you should be frolicking in the woods because, if you have a beard, you're clearly a lumberjack. And it follows that if you're a lumberjack, you should smell like one too.
The smell of your beard should be of particular concern if you're not frolicking alone and your lady is joining you when it's time to strike fear into the hearts of grizzly bears everywhere. To set this mood, ceder-based beard oil is a great idea, and will remind you of that cabin up in the mountains that you never got around to building.
For best results, use one of these great cedar-based beard oil recipes below, as they're some of the best I've found, and they're guaranteed to get a reaction whether you're sauntering around the city or trudging around in the wild.
Before You Get Started
You're going to need a few basic things before you can start making your own beard oils at home.
Storage
Properly storing your beard oil is important in preserving it for as long as possible. For best results, it is recommended to use an amber glass bottle with a glass dropper for extraction. Luckily, these are very inexpensive and quite easy to find. I get mine from Amazon.com for about $1 per bottle.
Transferring
I also like to use a funnel for pouring my finished oil into the bottle. Trust me, it's very frustrating when you've prepared a great beard oil, but you spill it all over the counter as you're trying to get it into it's bottle. You can get 6 of these for only $2 and you'll be really glad you got them.
Ingredients
Most important of all when making beard oil are the ingredients that you use. Amazon.com has by far the most extensive selection of carrier and essential oils. In fact, you might find the vast array of different brands a little overwhelming. But the great thing about Amazon is that you can read real customer reviews for every item. When in doubt, look for the best sellers (they're usually popular for a reason) and read through the reviews to make sure that previous customers have been satisfied with that product.
1. The Smell of the Magi
Why stop at cedar oil when you can use another essential oil that might also have some benefits for your skin? Frankincense allegedly can also help fight your acne and reduce signs of aging. Chances are, if you have a beard, it's covering up all of your potential wrinkles anyway, but why not keep your youthful glow for as long as possible? You never know when you'll need to shave. Here's a recipe that incorporates both cedar oil and frankincense for a scent that recalls the inside of a wooden church.
Ingredients:
1 oz of Almond Oil (for your base)
4 drops of Cedar Oil
2 drops of Frankincense Oil
Both of these oils can have really strong aromas, so if it's too overwhelming for you to keep something so powerful near your face, you can dial it down a notch by using one less drop of each. Remember that essential oils can be irritating to the skin if you have too much, so make sure that you keep the ratio more or less the same if you decide to make more beard oil.
2. A Frolic in the Countryside
This recipe has an outdoorsy smell that works well all year and will give you that crisp sense of freedom even when you're sitting inside. It uses jojoba oil as the carrier oil, an oil that is revered for its similarity to the oil that's produced by your own skin, so it's a very homeopathic solution if you're having problems with your skin drying out. You'll also find bergamot essential oil here, which is very aromatic and has something of a citrus tinge to it—it isn't as sweet as an orange, but not quite as sour a smell as that of lime. The patchouli oil is there because, besides smelling nice, it's traditionally known to treat skin problems and, again, helps to keep it from drying out. (Rumor has it, it's also an aphrodisiac, but don't take that rumor too literally.) Finally, there's juniper oil, which is another antiseptic, so it will perform double duty with the cedar oil to keep your acne at bay. Here is the recipe:
Ingredients:
1 oz of Jojoba Oil
4 drops of Cedar Oil
3 drops of Bergamot Oil
3 drops of Patchouli Oil
1 drop of Juniper Oil
3. Bearded Beef Jerky
Have you ever had a strip of beef jerky that was seasoned to perfection? That made your mouth water so much that you barely noticed how dry and sinewy the jerky was as you bit into it and ripped that former cow's flesh to shreds? Why not incorporate that same principle of marinated meat into your beard oil? This recipe uses not only cedar oil for its skin benefits and scent, it also uses some spices to give your beard a little kick. Black pepper oil not only smells spicy, but it may also have anti-oxidant properties to help your cells stay healthy. Tea tree oil is good for your skin as well, and peppermint oil will provide a nice minty "aftertaste" to this recipe. Take a look:
Ingredients:
1 oz of Almond Oil
5 drops of Cedar Oil
3 drops of Black Pepper Oil
2 drops Peppermint Oil
2 drops Tea Tree Oil
You can replace almond oil with something else if you feel so inclined. It's not particularly essential to this recipe, but it does provide a pleasant scent in its own right.
Try Beard Oil Before You Make It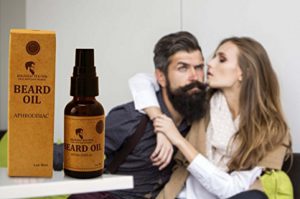 If you're looking up beard oil recipes, you're probably looking at spending over $50 in ingredients (at least).
If you haven't tried beard oil before, a much lower cost option than making your own is buying from one of the many beard oil makers out there.
Beard Hunk Beard Oil:
Uses all natural ingredients that will leave your beard hair nutrient rich
Moisturizes beard hair and skin for healthier beard growth
Eliminates itching and dandruff so you can feel as good as you look
Beard Hunk Beard Oil's formula has been clinically tested and is unlike any other. It contains: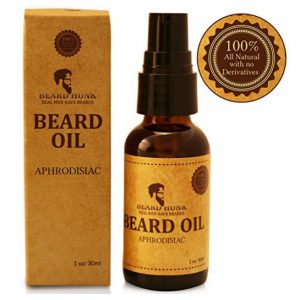 Grape seed oil
Argan oil
Jojoba oil
Vitamin E
Safflower oil
Macadamia oil

Sweet almond oil
Bisabolol
Coconut oil
Tea tree oil
Lemon oil
Mint oil
Can you image buying all those ingredients individually?
So there you have it: Three recipes that exploit the many benefits and great woodsy smell of cedar. Just remember to test the oils on a small section of skin before you go all out and start rubbing it on your face. Some people are indeed allergic to certain natural essential oils, such as frankincense, so steer clear if this is the case.
Employ extra caution if you're allergic to tree nuts or have exhibited any sort of allergy to other kinds of plant matter, and remember to always dilute everything with plenty of carrier oil. Besides these common-sense considerations, though, feel free to experiment and modify these recipes, and come up with something that works well for you.
For more articles like this one where you can find awesome beard oil recipes, click here!