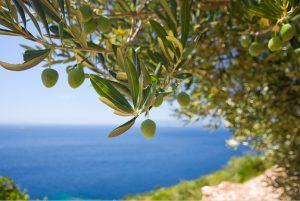 Olive tree or Olea Europaea is a tree native to the Mediterranean region. Numerous studies have shown that its fruit and oil have a wide range of therapeutic properties. Folk medicine has always valued olive oil for its hair and skin nourishing properties. This makes olive oil beard oil perfect for your beard.
Today, hundreds of scientific studies have established that olive oil is indeed extremely beneficial for health thanks to its emollient, laxative, sedative, nutritive and aphrodisiac properties.
Virgin olive oil is packed with antioxidant compounds including hydroxytyrosol, tyrosol, and oleuropein as well as monounsaturated fatty acids. It is due to these compounds and healing properties that olive oil beard oil can be used on a daily basis to maintain a luxurious beard.
In this article, we will discuss 9 easy beard oil recipes containing olive oil.
Before You Get Started
Making beard oil at home is simple and only requires a few inexpensive supplies to get started.
| | |
| --- | --- |
| Storage | Transferring |
| | |
| Properly storing your beard oil is important in preserving it for as long as possible. For best results, it is recommended to use an amber glass bottle with a glass dropper for extraction. Luckily, these are very inexpensive and quite easy to find. They go for about $1 per bottle. | I  like to use a funnel for pouring my finished oil into the bottle. Trust me, it's very frustrating when you've prepared a great beard oil, but you spill it all over the counter as you're trying to get it into it's bottle. You can get 6 of these for only $2 and you'll be really glad you got them. |
1. Olive Oil For Beard Anti-Dandruff Mask
Ingredients:
¼ cup sour cream, mayonnaise or yogurt
¼ cup olive oil
Method:
Mix the two ingredients and apply it all over the beard.
Leave it on for an hour before rinsing clean using warm water and a mild beard shampoo.
The lactic acid from the cream/yogurt/mayo gently cleanses away dirt caused by air pollution while the healthy monounsaturated fatty acids in the oil moisturizes and hydrates the dry skin and hair.
2. Olive Oil for Beard Itchiness
Ingredients:
¼ cup warm olive oil
Juice of half a lemon
Method:
Mix the two ingredients and massage it all over the itchy beard.
Olive oil moisturizes dry skin while lemon juice alleviates itch by killing off bacteria.
3. Olive Oil Beard Oil For Fast Beard Hair Growth
Ingredients:
½ cup of olive oil
15-30 drops of eucalyptus essential oil
5-10 drops of rosemary essential oil
Method:
Mix together all the ingredients.
Apply it daily all over the beard after bathing. If you experience skin irritation or itchiness, wash off with cold water and beard shampoo.
You can also use this recipe for moisturizing the beard at night.
Eucalyptus and rosemary oils are hair growth stimulating oils. Used daily, this olive oil beard oil recipe can show dramatic results in beard growth in a week.
4. Olive Oil For Unruly Beards
This recipe also contains rosemary but, additionally, it uses tea tree oil that stimulates hair growth, reduces beard dandruff and also conditions and tames unruly beards. Olive oil is an emollient that works for most hair and skin types which makes this one of the best beard oil recipes. If you do not have access to rosemary, you could use dried lavender, or even pine needles.
Ingredients:
120 ml or ½ cup of olive oil
3 tbsp dried rosemary
2 drops of tea tree essential oil
Method:
Infuse the olive oil with the dried herbs. You can warm up the oil a bit and add it over the rosemary and let it steep overnight.
Add a few drops of tea tree oil and massage the mixture on the beard.
The shelf life of this olive oil beard oil recipe is 9 months depending on the storage as well as the quality of ingredients used.
5. Olive Oil Beard Oil Recipe To Moisturize Beard Hair
Jojoba oil is a waxy oil that smooths and softens the beard. Argan oil is antioxidant and provides sun protection; it can also prevent sebum production to stop pimples under the beard. Sweet almond oil is nourishing and moisturizing. Frankincense can repair and heal scarring caused by previous pimples. Vetiver acts as a base aroma for the beard oil.
Ingredients:
1/4 oz of drops of jojoba oil
1/4 oz of of Moroccan Argan oil
1/4 oz of of olive oil
1/4 oz of of sweet almond oil
3-4 drops of Frankincense oil
3-4 drops of Vetiver
3-4 drops of rosemary essential oil
3-4 drops of cedar wood essential oil
3-4 drops of bay rum essential oil
Method:
You can play with the above oils and their quantities to suit the fragrance for this leave-in beard hair conditioner. Store the oils in a dark/amber colored bottle. Place it in a cool, dry location and use it within 3 months.




6. Olive Oil Vitamin E Beard Growth Hair Treatment
Ingredients:
2 Vitamin E capsules
2 tbsp warm olive oil
Method:
Extract the oil from both capsules of antioxidant vitamin E oil and mix them with olive oil.
Massage into the beard for luxurious hair growth.
You can leave on this olive oil beard oil overnight, or shampoo off after 30 minutes.
7. Olive Oil and Almond Oil
Olive oil is one of the best carrier oils for beard oil. Sweet almond oil is the best oil for beard hair growth. Both olive oil and sweet almond oil are very affordable, which makes them both great go-to carrier oils for your beard oil recipes. Mix the two in 1:1 ratio to condition, moisturize and stimulate the hair. This is the best beard oil recipe for unruly, dry and frizzy beards with stunted hair growth.
If you'd like to add a fragrance to this recipe, try experimenting with your favorite essential oils.
8. Olive Oil and Avocado Oil Beard Hair Conditioner Mask
Did you know that in the early times, the best beard oil recipe was actually made by boiling a lizard in the olive oil? While our recipe does not call for this extreme step, it does use avocado oil and oats. The combination of avocado oil and olive oil makes a super conditioning formula that tames frizzy, flyaway beards.
Ingredients:
1 ripe avocado
¼ cup steel cut oats
1/8th cup warm olive oil
Method:
Mash the avocado and make a paste by combining it with powdered steel cut oats.
Mix the paste with a little olive oil.
Apply it all over the hair, beard and facial skin.
Wait for 30 minutes before rinsing off.
9. Olive Oil And Oil of Origanum
Origanum is nothing but Oregano which is closely related to Wild Marjoram. This is a great beard oil recipe for luxurious hair growth which can even make hair curl.
Ingredients:
½ cup olive oil
5-10 drops of rosemary essential oil
5-10 drops of oil of oregano
Use the mixture regularly to stimulate beard hair growth.
Try these 9 awesome olive oil beard oil recipes to see a difference in your beard.




Try Beard Oil Before You Make It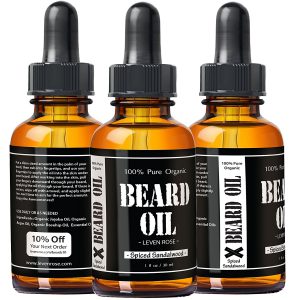 If you're looking up beard oil recipes, you're probably looking at spending over $50 in ingredients (at least).
If you haven't tried beard oil before, a much lower cost option than making your own is buying from one of the many beard oil makers out there.
SOFTEN AND SOOTHE BEARD – Keep your beard healthy, groomed, and tamed naturally with Leven Rose Natural Beard Oil.
SAY GOODBYE TO BEARD DANDRUFF – Sandalwood Essential Oil increases beard and hair growth while calming irritation, soothing itch, and treating dandruff or beard druff. Mixed with spicy clove notes, the scent of Sandalwood is a classic yet warm, mature and refined, rich, dapper, deep smooth wood smell.
SOAKS IN QUICKLY – Don't turn your beard into a 30 minute beauty routine. Run natural oil through the beard after showering to treat dry, coarse, and unruly beard hair. Calms under-beard skin with soothing Jojoba Oil and moisturizes beards for a tidier, groomed beard look.
EXTEND SHELF LIFE – Dark amber glass bottle and glass stopper shield oil and make it last longer as oils are light sensitive & must be stored in dark amber bottles to protect them from oxidation.
100% MONEY BACK GUARANTEE – Leven Rose offers no-risk purchasing for your beard oil. Don't absolutely love it? We'll refund it – no questions asked.
What Does It Smell Like?
Sandalwood essential oil is steam distilled from the Sandalwood tree and has a smooth, warm, rich mature woods scent. Spiced Sandalwood is a mix of Essential Oils with the predominating scent of Sandalwood – a sweet wood with warm and dapper scent.
Clove adds dynamic to the Spiced Sandalwood Beard Oil making the full-bodied smell perfect for any man.
With a distinct enough scent to wear but not overpowering. Our Spiced Sandalwood Scented Beard Oil lets you take care of your beard, without smelling like a girl (or something else).