This article presents 5 super easy and effective beard oil recipes that suit many facial skin types (and personalities!). All of these DIY homemade beard conditioner recipes contain super-hydrating compounds that also have other therapeutic benefits. A beard needs to be nurtured and nourished with daily care and maintenance to keep it soft, smooth and tamed. Without further delay…here are 5 simple DIY homemade beard oil recipes to start using today.
Before You Get Started
You're going to need a few basic things before you can start making your own beard oils at home.
Storage
Properly storing your beard oil is important in preserving it for as long as possible. For best results, it is recommended to use an amber glass bottle with a glass dropper for extraction. Luckily, these are very inexpensive and quite easy to find. I get mine from Amazon.com for about $1 per bottle.
Transferring
I also like to use a funnel for pouring my finished oil into the bottle. Trust me, it's very frustrating when you've prepared a great beard oil, but you spill it all over the counter as you're trying to get it into it's bottle. You can get 6 of these for only $2 and you'll be really glad you got them.
Ingredients
Most important of all when making beard oil are the ingredients that you use. Amazon.com has by far the most extensive selection of carrier and essential oils. In fact, you might find the vast array of different brands a little overwhelming. But the great thing about Amazon is that you can read real customer reviews for every item. When in doubt, look for the best sellers (they're usually popular for a reason) and read through the reviews to make sure that previous customers have been satisfied with that product.
The Recipes
1. Shea Butter Moisturizing Beard Balm Recipe
Ingredients
¾ cup unrefined Shea butter
4 tbsp plant oil mixture- You can use coconut oil, Jojoba oil and Plum kernel oils
5-10 drops of essential oils of your choice-you can choose one or all of the following Carrot oil, Roman Chamomile oil or Lavender oil
Method
In a clean plastic bowl, add the Shea butter with combination of plant oils. Mix together with a spoon until you achieve desired consistency. This will take a few minutes of beating and mixing.
Just before filling this Beard Balm recipe in a clean container, add your favorite essential oils.
Apply this DIY beard balm daily after bath. Take a bit of it in your palms and rub them together. Now dab them all over the beard. Rub the balm in well so it is evenly distributed.
Benefits
Shea Butter is rich in essential fatty acids and it is incredibly nourishing for the skin. It contains Cinnamic acid that reduces inflammation to prevent folliculitis.
Jojoba oil is highly conditioning and is best used on beard as an after-shower moisturizer. It locks in moisture to prevent dryness.
Coconut oil is slightly heavier oil, so if you want to avoid the greasy look, use it sparingly.
2. Super Beard Conditioner Recipe with Six Essential Oil Blend
This DIY beard oil recipe contains 6 nourishing essential oils. It also contains Sweet almond oil, Argan oil and Jojoba oil which act as base oil and carrier oils to keep the beard soft, supple and luxurious.
Ingredients
1 tbsp Jojoba oil
2 tsp Argan oil
1 tsp sweet almond oil
7 drops each of Vetiver and Frankincense essential oils
5 drops of West Indian Bay essential oil
4 drops of sandalwood oil
3 drops of Cedarwood essential oil
2 drops of rosemary essential oil
Method
Using a funnel, pour in the Jojoba, Argan and Sweet Almond oils in an amber colored bottle.
Swirl to mix gently.
Add 7 drops each of Vetiver and Frankincense oils.
Add the West Indian Bay, Sandalwood, cedarwood and rosemary essential oils.
Mix well.
Close bottle with a dropper cap.
Use every morning after bath and also at bedtime to keep beard in mint condition. Shake well before each use.
Benefits
Jojoba is a drought resistant shrub native to desert regions. The waxy oil produced by the seed of Jojoba is ultra moisturizing and hydrating. It can smoothen and soften beard hairs to keep your beard supple and luxurious.
Argan oil is native to Morocco; it is an antioxidant which protects the skin from harsh UV rays of the sun. It clears up sebum and prevents acne breakouts beneath the beard
Frankincense, sandalwood and Vetiver all have mood enhancing properties.
Sweet almond oil is ideal for moisturizing and nourishing the skin and hair.
3. Sweet Hydrating DIY Beard Oil Formula
The next DIY beard oil recipe not only hydrates and nourishes the skin, it also smells extremely pleasant.
Ingredients
2-3 tablespoons of Sweet Almond Oil
8 drops of Sandalwood essential oil
6 drops of West Indian Bay essential oil
4 drops of Cypress essential oil
4 drops of Melaleuca essential oil
Method
In a dark/amber colored bottle, add the Sweet Almond oil.
Using a dropper, add all essential oils one by one.
Swirl gently to mix well.
Store the Beard oil in a cool and dark place away from light and heat.
Use it daily before stepping out to keep your beard hydrated and sweet smelling.
Benefits
Sweet almond oil is an antioxidant rich in Vitamin E. It can protect the skin from oxidative stress caused by photo-damage, keeping it soft and supple.
Melaleuca has cleansing and rejuvenating effects on the skin.
Cyprus essential oil is known for healing wounds, sores and acne scars. It has a spicy, manly fragrance. Likewise, sandalwood oil is known for its exotic lingering, woody smell. It soothes the skin and keeps it cool and fresh.
4. Manly Moisture DIY Beard Oil Recipe
This DIY homemade beard oil moisturizer smells exotic and imparts healing properties to parched skin.
Ingredients
1 ½ tbsp Sweet Almond oil
5 ml or 1 tsp Moroccan Argan Oil
4 drops of Cedar essential oil
3 drops of Frankincense essential oil
Method
In a 2 or 4 oz bottle, add all the oils.
Mix well.
Close the bottle with a stopper.
Use this manly formula daily to tame wild hair and moisturize the skin.
Benefits
This manly DIY beard oil recipe has numerous benefits thanks to Cedarwood essential oil which cures acne and promotes hair growth.
Frankincense essential oil is known to slow down signs of aging by lifting the skin naturally.
Moroccan Argan oil and Sweet almond oil are both moisturizing and provide antioxidant benefits to dry, chapped skin.
5. Saint's Beard Oil Formula
It is said that ancient saints and sages in the East used this formula to tame unruly beards. No wonder they had such luxurious beard growth…try it!
Ingredients
2 tbsp cold pressed virgin Coconut oil at room temperature
3-5 drops of Eucalyptus essential oil sourced from authentic sources
½ tbsp of Castor oil
Method
In a very clean, preferably dark colored bottle, add all oils using a dropper.
Mix well by shaking.
Use this formula at bed time and shampoo it off the next morning.
Benefits
Coconut oil is extremely beneficial for dry, dandruff ridden beards.
Castor oil promotes hair growth.
Eucalyptus is anti-inflammatory, deodorant, and stimulating oil. Mixed with coconut oil, it can give a nice shine and lift to dull beards.
Start using these conditioning and moisturizing DIY beard oil recipes today and see the difference in your beard!
Try Beard Oil Before You Make It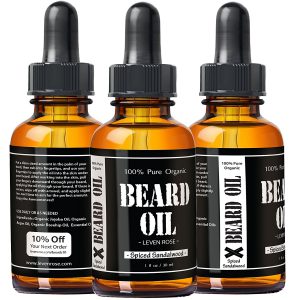 If you're looking up beard oil recipes, you're probably looking at spending over $50 in ingredients (at least).
If you haven't tried beard oil before, a much lower cost option than making your own is buying from one of the many beard oil makers out there.
SOFTEN AND SOOTHE BEARD – Keep your beard healthy, groomed, and tamed naturally with Leven Rose Natural Beard Oil.
SAY GOODBYE TO BEARD DANDRUFF – Sandalwood Essential Oil increases beard and hair growth while calming irritation, soothing itch, and treating dandruff or beard druff. Mixed with spicy clove notes, the scent of Sandalwood is a classic yet warm, mature and refined, rich, dapper, deep smooth wood smell.
SOAKS IN QUICKLY – Don't turn your beard into a 30 minute beauty routine. Run natural oil through the beard after showering to treat dry, coarse, and unruly beard hair. Calms under-beard skin with soothing Jojoba Oil and moisturizes beards for a tidier, groomed beard look.
EXTEND SHELF LIFE – Dark amber glass bottle and glass stopper shield oil and make it last longer as oils are light sensitive & must be stored in dark amber bottles to protect them from oxidation.
100% MONEY BACK GUARANTEE – Leven Rose offers no-risk purchasing for your beard oil. Don't absolutely love it? We'll refund it – no questions asked.
What Does It Smell Like?
Sandalwood essential oil is steam distilled from the Sandalwood tree and has a smooth, warm, rich mature woods scent. Spiced Sandalwood is a mix of Essential Oils with the predominating scent of Sandalwood – a sweet wood with warm and dapper scent.
Clove adds dynamic to the Spiced Sandalwood Beard Oil making the full-bodied smell perfect for any man.
With a distinct enough scent to wear but not overpowering. Our Spiced Sandalwood Scented Beard Oil lets you take care of your beard, without smelling like a girl (or something else).

For more articles like this one where you can find great beard oil recipes, click here!