Intro
Clicking on the 'About' link gets you a 404 page (page that can't be found). Right off the bat, that's not a good sign. The rest of site followed in the same direction.
Variety – 
There is not much variety considering the fact that they sell only 5 beard oil blends. The oils were also all out of stock for several months when I first started checking. It now appears that you can actually order them. There is only one size bottle per blend-30 ml or 1 fl.oz.
Besides the beard oil recipes, this site does not sell any other beard products such as beard balms, waxes, shampoos, etc.
Price – $$
All listed products cost about $20 for 30ml bottles. Compared to other beard oil sites, Lumber Jack beard oils are definitely affordable. They also offer a 30 day money back guarantee in case you are not satisfied with their products. They have free shipping for all orders above $100 USD.
Products

Products listed on the site range from fragrant beard oils to unscented varieties for those who do not like fragrant ones. Here are the products: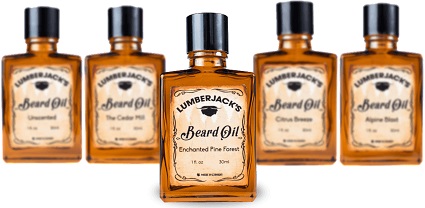 Alpine Blast
Citrus Breeze
Enchanted Forest
The Cedar Mill
Unscented Blend
All 5 blends really sound interesting. But the fact that they were all out of stock for months worries me. It could mean either of the 3 things- 1) These products are so much in demand that their supply side is suffering. 2) They are too busy to update their website due to offline selling. 3) The company is not run very well or they were just taking a break temporarily.
Let us talk about their blends now.
Sorting by their popular products- the Enchanted Forest Blend seems to be the most popular selling Lumberjack beard oil. The name sounds interesting and indeed transports one to a Pine forest. Most men tend to love the smell of pine cones- it is masculine enough and one gets to smell like a rainforest- not a bad thing at all!
Next in line is their Alpine Blast formulated specially for the hardworking lumberjacks. The peppermint essential oils in this one will leave you smelling great with just the right hint of freshness for those looking for it.
The Cedar Mill is a woodier scent for those who do not like pine or citrusy scents. The Citrus Breeze is supposed to have undertones of orange and lemongrass to make one feel fresh, clean yet manly. Men will be glad to note that they also sell an Unscented Blend which only has sweet almond oil and Jojoba oil without other essential oils.
Overall Impression – 

The overall impression was certainly not great since all of the items were out of stock for a long time. They're back in stock now, so perhaps they are back on track,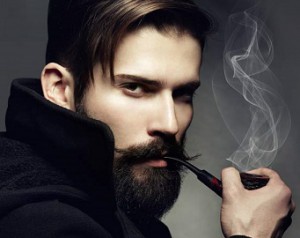 It definitely seems as if the website is not updated regularly. They have several blog posts all dating from March – April 2015, and nothing new since then.
The link to their Facebook page was also broken. In this era of social media, that is a strict no-no. Even their Twitter and YouTube links just bring you back to their sales page. What is a user to do if he is looking for a genuine website for beard oils and wishes to find a vendor he can rely upon? These days, most users look for Facebook or other social media reviews. A site that does not have social media presence is sure to suffer. While it was fairly easy to navigate through the site, there was no way of switching from one product to another. One had to return to the home page for that purpose.
The lack of pictures and lack in the variety in products was also a major turn-off. The products were adequately described though- so, users looking for specific ingredients can read all the information per ingredient per blend.
The return policy seemed pretty straight forward-you can return their product within 7 days to get your full money back.
Overall, the site looks very nice, and I like that fact that they have a lot of beard – related articles, but that's about it. This would not be my first choice of website to pick up a beard oil from.
==> Click Here To Check Out Lumberjack's Beard Oil Website <==