Intro
OneDTQ is a company specializing in beard products crafted with highest organic ingredients in their Brooklyn workshop. Their wide variety of products is simply amazing: it goes to show that the Company really values
its mission statement 'to make beard products that are good for body and spirit-and that they are the Beard People'. OneDTQ also use time tested all-natural remedies that can help men take care of their beard, moustache, skin and hair.
Variety – 
There is so much variety in the range of OneDTQ offerings that you will definitely be spoilt for choice. Not only do they sell beard oils, beard shampoos and other conditioning and healing beard products; they also sell total Beard Care Kits for gifting. We will be describing all the products in detail below.
Price-$
OneDTQ Beard products are certainly reasonably priced. Take the example of their Calming Beard blend- it contains Lavender and Clary Sage essential oils and one would expect these to be expensive. However, a 2fl.oz bottle only costs $15, which is reasonable considering that they use all natural and organic stuff in all their blends. Even their beard shampoos are decently priced-the range of shampoos varies from $16.99 to $32.00- which means there is something for every budget.
Products – 
I was extremely impressed with the variety and range of products available on OneDTQ.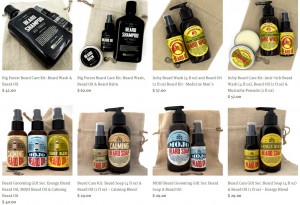 Here are some of their beard products:
Beard kits- These contain everything a man would need for grooming his beard and moustache. From beard wax, to beard oils to beard shampoos, the kit contains it all. The products are all wrapped in attractive rugged gift bag; making it an ideal gift for a man with facial hair.
Beard waxes and pomade – The beard waxes and pomades are useful for dry, itchy beards, mustaches as well as unruly eyebrows! They contain ingredients like Shea Butter and Cocoa Butter to soothe inflamed, dry and itchy skin.
Beard Oils – The range of beard oils offered by OneDTQ is extremely impressive. You get to choose between conditioning and calming blends containing essential oils like Lavender, Clary Sage and therapeutic Vitamin E which soothe, heal and condition.
Beard shampoos -Their Anti-Itch Medicine Man' Beard Shampoo is one of their most popular shampoos. It is known to relieve discomfort caused by dandruff, ringworm and other fungal skin infections of the beard. This product has also been highlighted by a wonderful video by a genuine user. He has mentioned how the Medicine Man Beard shampoo conditioned his beard to make it extra luxurious and more manageable. Although it contains essential oils, the One DTQ beard shampoos all lather up extremely well and thoroughly clean the beard. Did we mention that they also smell great?
Overall Impression – 
I loved OneDTQ beard products website. The website is super easy to navigate and they have informative videos uploaded by genuine users to support the claims they have made about their products. The variety in products is also amazing-it is sure to keep users coming back for more-especially those who love to try out different beard products from time to time.
Their oils, shampoos and pomades are definitely reasonably priced and we are sure you will love them. However, should the question of a return arise, you have 15 days to return unopened products. (Their refund policy page says that they take back unopened and unused products. The question remains though: how can you test a product to see if it suits you or not if you are not allowed to open it?)
The other cool thing about OneDTQ is that have always have some type of promotion going on. During the holidays it was free shipping on all orders priced over $50, Then after new year is became 30% off all 'Big Forest' products, etc. You can also avail of the same day shipping (depending on your location). Whether they ship internationally remains to be seen.