Once you decide to grow a beard, it's important to maintain it properly using beard brushes & combs. In this article I will provide a guide that will help you choose the best product for your beard.
Besides beard brushes and combs, There are other products you can use to help style your beard the way you'd like. You can learn more about those here: beard oils, beard balms, washes, and conditioners.
Getting Started
When shopping for these products, there are hundreds of options to choose from. If it's your first time growing a beard, choosing the right product for your needs can get pretty overwhelming. At first glance, choosing the right brushes and combs can seem simple, but finding the appropriate one can actually be quite daunting considering the sheer number of options out there.
Deciding on the right beard brushes & combs for your needs is crucial because they play a role in helping you maintain your beard the best way possible. Ultimately, the best choice is to skip the cheap drugstore variety and invest in good maintenance equipment.
Importance of a Good Comb For Your Beard
Beard combs are generally used for straightening beards that have been grown for 3 months or more. Before that, there really is no need to use a comb. Depending how fast your hair grows, when it gets too long you'll need a comb to aid in detangling, especially after washing it while it's still wet.
Combing your beard after washing helps keep your beard in good shape throughout the day, while making it easier to apply other styling materials such as beard oils. Many men also carry around a comb to keep hairs in place throughout the day, even after application of styling aids such as beard oils and balms.
When it comes to choosing the right comb for your beard, there are two things you need to pay attention to:
Comb material
Tooth width
Comb Material
Plastic Beard Combs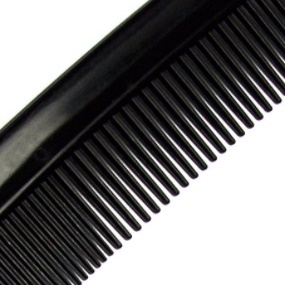 Combs that are made using plastic are the cheapest ones you'll encounter. They are usually found in drugstores and have the poorest quality. In most plastic combs it's common to see a seam in the middle which is used to hold the mold together. The poor quality of this kind of beard combs can result in breakage of your beard especially if you have thin hair. Investing in a good comb is important in taking care of the health of your beard (which is worth a lot more than the cost of a cheap comb)
Metal Beard Combs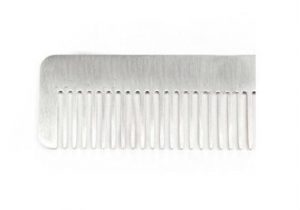 Metal combs should also be avoided. They might look stylish and cool, but metal hair products are never recommended because they often have edges that are poorly cut, resulting in the possibility of opening the individual fibers in your beard.
Rubber Beard Combs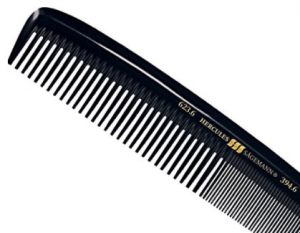 Rubber combs are much smoother, since they are made of either cellulose acetate or vulcanite. These kinds of combs are considered among the best quality for men with beards. Because they are made out of rubber, they don't produce any static electricity while combing. They're also much easier to clean compared to wooden combs.
Wood Beard Combs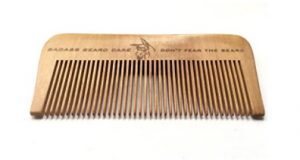 The most common kind of beard combs are wood. They are made of excellent quality and can come in different styles, shapes, and sizes to suit your individual needs. Just make sure that you carefully examine the cut and teeth of a wood comb before you make a purchase; the teeth should always be cut smoothly to prevent damaging your beard.
Importance of a Good Beard Brush
Beard brushes are used when your hair has dried after washing, while beard combs can be used anytime whether your hair is wet or dry. Beard brushes are recommended for usage during the early stages of hair growth. You can already start using a brush on the second month of beard growth, depending how thick your facial hair is.
Beard brushes & combs have their own special uses; but when it comes to beard brushes its main use is for softening the beard hair. When you brush your beard on a regular basis, it helps evenly distribute the sebum oil which provides nourishment to your hair. The more often you brush, the softer your hair becomes which is why many men refer to it as the ultimate beard softener.
Additionally, a beard brush is extremely helpful when applying beard oil. The use of a brush helps to evenly distribute the oil throughout your facial hair, ensuring that all spots are covered. You can pour beard oil on the brush itself and begin brushing your beard, or you can apply the oil on your beard directly – whichever you think suits you best.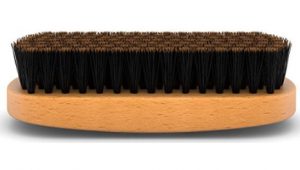 Kinds of Beard Brush Material
Boar Bristle
These are natural hairs that are excellent in quality. Boar bristles are gentle for facial hair as well as skin. They were originally developed for beards because they can improve the texture of the hair without even using conditioners.
Metal and Plastic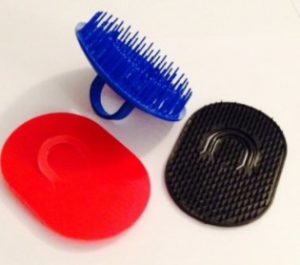 These kinds of bristles are not recommended since they easily break hair and can cause split ends. Metal and plastic beard brushes can also cause scratches to the skin, therefore are not ideal.
Should You Use A Beard Brush Or Comb?
Depending on your hair growth and styling needs, both beard brushes & combs can come in handy at various stages of beard growth.
During months 2-5, beard brushes are recommended for grooming especially for applying beard oil and balms. You can also use the brush to keep your beard clean twice a day.
For month 5 and onwards, beard combs are more practical since they can be used to detangle and straighten the hair. Beard brushes can still be used during this time to continue keeping beard hair soft.