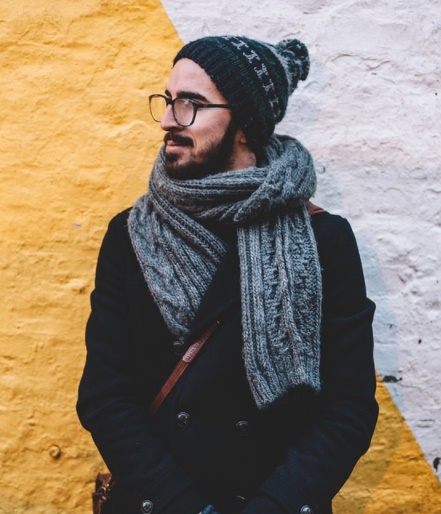 A bearded man cannot afford to neglect his beard any more than he can afford to neglect his career. Practicing good beard care and maintenance will enhance a man's appeal rather than diminish his masculinity.
Just as brutal winters hamper a woman's skin and hair; it can wreak havoc and damage a man's skin and facial hair too. Consequently, men need to take a little extra care of their skin and beards to combat the drying effects of winter.
Today we will discuss some essential beard grooming tips especially in the colder months.
Winter Beard Maintenance 101
1. Use a Milder Face Wash/Beard Shampoo
Harsh soaps and face washes can strip natural oils and lipid barriers off the skin making it prone to dryness. The beard also suffers drying and breakage. As a result, one must use a mild, alcohol-free soap to cleanse the skin. Look for face washes without alcohol. For rinsing the soap out, use cold or tepid water. Do not use very hot water as it can strip off the oils and make the skin extremely dry.
2. Exfoliate From Time To Time
Men with facial hair are sometimes prone to razor bumps. Therefore, regular exfoliation with depilatories is a must. A depilatory includes creams, solutions, and powders that remove hair follicles and prevent bumps and ingrown hair.
Depilatories can sometimes cause skin irritation in which case you can use an electric razor or a safety razor with single edge blade. Never ignore severe razor bumps as they could lead to keloid scars and can even get infected.
3. Always Keep Facial Hair Neatly Trimmed
Men with sideburns, moustaches, and beards must keep all three trimmed and neat at all times. Move the razor blade in one direction only as opposed to going back and forth. This is essential to prevent ingrown hair and skin irritation. If you suffer from chronic razor bumps, seek help of a dermatologist to resolve the issue.
4. Use Beard Oil and Beard Balm
Beard dandruff, flaky skin, split ends and hair loss are just some of the common issues bearded men face. All these issues can be combated using beard oils. Beard oils and beard balms moisturize the skin and hair and protect them from the harsh and extreme environment. A good quality beard oil or balm hydrates facial hair and skin and also helps the beard hold shape.
What Is A Good Winter Beard Care Regime?
Beard Shampoos
A good regime for winter beard care includes the use of a good beard shampoo. You must not use regular hair shampoo for washing your beard as it has a different pH than that which is required for facial hair.
Beard shampoos are specially formulated to remove dandruff, flaking, microbes, and to prevent skin issues like ringworm, dermatitis, etc., that adversely affect your beard's growth.
Use a sparing amount of shampoo and work up to a rich lather. This will loosen debris, dead skin and also remove oils and sebum. Rinse thoroughly so that all the soap is washed away. Inadequate rinsing will cause your skin and beard to become dry, itchy and flaky.
Beard Conditioners
After shampooing, follow up with a beard conditioner. Beard conditioners moisturize and hydrate the beard and help prevent flyaway hair and unruly beards.
Conditioning also enables you to style your hair properly and easily and subtly enhances softness and shine.
Beard Oils
Once your beard is dry, use a good quality beard oil. If you find beard oils too greasy, you can use them at night. However there are many light beard oils that do not give a fat or greasy appearance so one can use them during the day too.
Massage the beard oil well into the beard by first rubbing a few drops of it onto the palms. Run the palms across the beard and massage well for a few minutes. Beard oils make your beard smell great and their lingering aroma will uplift your mood all day.
Combing
Comb your hair with a wide toothed comb an gently work out tangles. You can also use a good quality hair brush with sparse and firm bristles. Never comb a wet beard as the hair is more prone to breakage when wet.
Deep Conditioners
Another important beard maintenance step to use in winters is a once-a-week deep conditioner. You can easily make a leave-in conditioner by mixing a few drops of nourishing and hydrating beard essential oils with a carrier oil. I will shortly discuss 2 great beard oil recipes at the end of this article.
The weekly deep conditioner can undo the damage done by pollutants, hair dryers and harsh styling gels and products. Even fluorescent lights in the office can dehydrate the hair and skin leaving them very dry.
Sleeping with a deep conditioning beard oil in once a month is greatly beneficial for facial hair. Cover the beard up with an old towel and when you wash your beard the next day with a good beard shampoo, you will immediately notice a visible difference.
Beard Coloring
If your beard has many grays or has uneven hair that does not match your scalp hair, you can use hair dyes once every few months. There are products available specifically for coloring beard hair so do not use ones meant for the scalp hair. Experiment with different products to find one that suits you. If needed, consult a beard specialist to get recommendations.
Beard Oil Recipes
Everyday Beard Conditioning Blend
Rosemary essential oil-3-4 drops
5 drops each Lavender and Sandalwood essential oils
2-3 drops of Lemon essential oil
Mix the oils and add the blend to a teaspoon of Argan oil. Take a few drops of the blend and rub into the beard. This will combat beard dryness in winters.
Overnight Deep Conditioner
Vetiver and Ylang Ylang essential oils-10 drops
Geranium essential oil-7 drops
Rosemary and Carrot essential oils – 5 drops each
Mix all these oils and add them to a teaspoon of coconut oil. Rub the mixture into the beard. Leave it on overnight. Use the blend once a week/month at night in winters to condition hair and stimulate hair growth.