Do you have beard problems? Have you tried everything you can possibly get your hands on whether you can afford it or not and it did not work? Then it's time to learn about the surprising hair benefits of apple cider vinegar.
If your bathroom cabinet is filled with beard shampoos, balms, oils, conditioners, creams, lotions, and promises that these will help your beard grow long and luxurious and that is not the case, then this article is for you.
Trust me, you have nothing to lose!
You have already tried a zillion things which have probably cost you a small fortune. There is no harm trying this too. Let us discuss how you can use a common kitchen ingredient – apple cider vinegar – to grow your beard strong, long and itch free.
Why Use Apple Cider Vinegar for Beards?
Apple cider vinegar has been used for centuries to treat a variety of health issues. It is one of the best anti-inflammatory and natural ingredients to heal hair and skin problems.
Apple cider vinegar has the power to balance ph, fight acne and dandruff and reduce sebum production. The thing is, you have to use it every day. If you want it to grow your beard long and fast, then you need to be diligent in its use.
Give it a fair chance and soon you will see clearer skin, and shinier thicker beard hair. Here are main benefits of ACV (as it is known popularly) for beards:
1. Fights Dandruff
Apple cider vinegar is particularly beneficial against dandruff due to its anti-fungal and anti-bacterial properties.
Dandruff is nothing but a fungal infection of the skin and scalp. It gets aggravated due to pollution, improper hygiene, hormonal changes etc.
The fungus which causes dandruff produces oleic acid which triggers an acid that eats away the skin causing flakes. The end products of the fungus lead to severe itchiness and dryness. Being antifungal, apple cider vinegar kills the microbes that cause dandruff.
2. Fights Acne
Many men with beards suffer from acne due inflammation of the hair follicles resulting from hormonal imbalance and p.acnes bacterium. Several factors result in acne including pollution, dietary deficiencies, and stress. Apple cider vinegar balances ph of the skin and hair to prevent bacterial activity that causes acne. When taken internally, apple cider vinegar also balances hormones and fights inflammation to curb acne breakouts.
3. Improves Beard Health
You should definitely use apple cider vinegar if you have following beard issues:
Dull, faded looking beard that lacks sheen and luster.
Itchy and dry beard with dandruff, premature thinning and bald or patchy areas
Unmanageable hair with mats that looks straw-like and is extremely dry at times while extremely oily at others.
How To Use Apple Cider Vinegar for Beard Growth?
There are multiple ways in which you can use Apple cider vinegar for beard growth and skin and hair problems.
Internally – When you take apple cider vinegar internally, you fight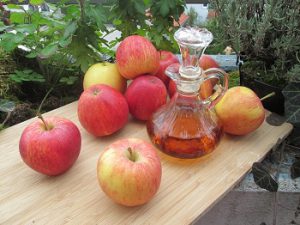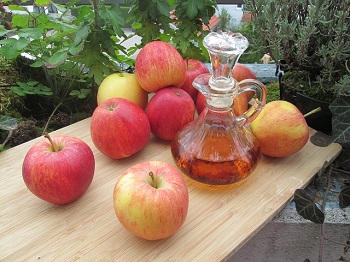 inflammation in the body. Inflammation is the root cause of many hair and skin problems including hair loss, dandruff, acne, in-grown hair etc. Start your morning with a glass of apple cider vinegar mixed with warm water. If the taste is too acrid, you can add some juice or honey. Drink this mixture daily on an empty stomach.
When you take apple cider vinegar regularly, your body is rid of toxic overload. You can also get rid of constipation which often results in skin issues like acne etc. Apple cider vinegar blocks DHT to reduce hair loss and prevent premature balding. In case of patchy hair growth, apple cider vinegar stimulates hair growth giving you a dense, luxurious and silky beard.
Topically – Another way to use apple cider vinegar for beard growth is topically. You can do so in the following ways:
Soak a sterile cotton wool in the vinegar and apply it to the beard. Massage it well into the beard and skin. Let it air dry. This remedy fights acne and hair loss to prevent patchy beard, ringworm and other fungal and bacterial issues.
As a final rinse after shampooing- Mix 2-3 tablespoons of organic, unfiltered apple cider vinegar with warm water and use it as a final rinse after you have shampooed your beard. Let the beard air dry. The remedy seals cuticles and gives you shiny, thick hair.
Mixed with beard oils – Mixing beard oils and apple cider vinegar is the best way to enhance the properties of the oils. Apple cider vinegar enhances anti-inflammatory properties of essential oils used in beard oil. This curbs dandruff, acne and also gives you accelerated hair growth.
I will now discuss some easy recipes with apple cider vinegar for making your beard grow stronger.
Apple Cider Vinegar Recipes For Common Beard Issues
Dandruff
Use 3 tbsp of organic, raw apple cider vinegar with the 'mother'. (This means that you will see string-like stuff in the vinegar. It is the best apple cider vinegar to purchase as it has all the right nutrients and enzymes that will give you many health benefits).
Divide your beard in sections and apply the vinegar all over. Make sure you massage the beard well so that the vinegar reaches deep into the skin and touches the roots.
A mixture of warm coconut oil, apple cider vinegar, and aloe vera gel is also a great recipe to fight dandruff. Mix the three ingredients well and apply to the beard and skin. Wash off after an hour. You may also leave it on overnight.
A mixture of yogurt and apple cider vinegar works wonders in banishing dandruff. Mix a tablespoon of yogurt with 2 tbsp of ACV. Mix well and spread it through the beard. Repeat weekly.
Bald Patches
Mix two tablespoons of organic apple cider vinegar with a pinch of cayenne pepper. Apply an hour before shampooing. Make sure the mixture does not get into your eyes.
You can also mix royal jelly with organic apple cider vinegar and apply all over the patchy beard. Keep it on overnight. You will surely get great results.
Use apple cider vinegar regularly and soon you will be receiving compliments for your beard!